Whether you're ready to rough it in a tent or relax in the comforts of your own hotel room, Morris offers plenty of places to settle in for the night.
301 E 7th St
Morris, MN 56267
320-585-1100
Looking for a home away from home during your trip to Morris? The East Side Inn - Morris, MN is a charming place located across the street from East Side Park just a few blocks from downtown. Check availability and plan your stay!
Pomme de Terre Park – City of Morris
What better place to tell your stories about your Morris adventures then around the crackling of a campfire. The Pomme de Terre Park offers sites for parking your camper or setting up a tent.
Pomme de Terre has 28 sites with electricity, plus many tent campsites.
10 sites with 50 amp service
18 sites with 30 amp service
Things to know
Sites are on a first-come, first-served basis and must be registered and paid for on-site. We do not reserve sites. A dump station is located at Jerry's U-Save in Morris.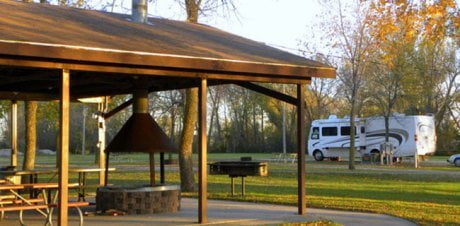 Camping Rates
Electrical Sites


Non-Electrical Sites
Shelter Reservations
Pomme de Terre Park has two shelters that may be reserved.
$25 per day
$40-$200 deposit based on group size
Please call 320-589-3141 to make reservations or for further information.